Hey guys! Today, Iím going to start a tutorial on how to make a leather ball. This is something you can easily do in your home if you have a little bit of leather, and a little bit of twine. You can see that itís just about the right size, and Iíll also show you guys how to get the right weight. First things first, we need to cut the leather to the correct size. I like to use goat leather because itís incredibly elastic, and we are going to be stretching it around this ball. An 11″ by 8.5″ piece, like a regular piece of computer paper, would be more than enough. You can also just kind of measure it and you probably could take an inch off of each side, but this is going to give you enough slack. If it matches, you should be good to go.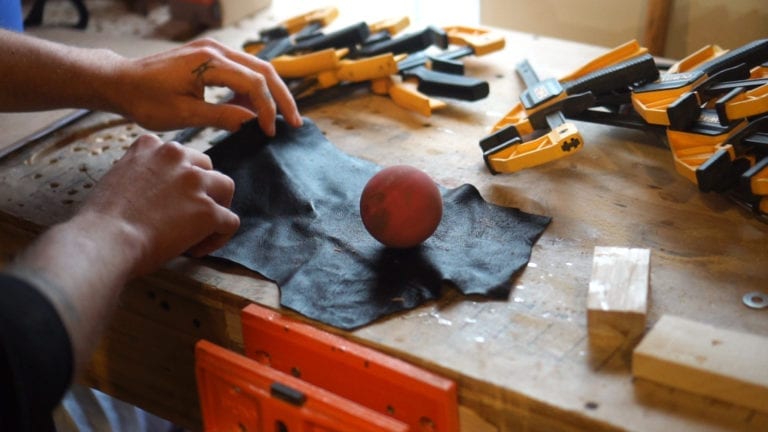 Now that I have my goat leather cut, I am going to soak it in hot water for probably about an hour, so that it can actually be molded around this ball. Letís go get the water ready, and Iíll check back in with you guys once itís done. Once the leather is ready, youíre going to want to stretch the leather to the ballís form. What I mean by that is, you simply canít clamp around it with F-clamps here, but we want to force it to stretch to its natural form, so youíre going to want to cut the excess leather off. When I apply the F-clamp, I do it in a way where itís dragging along the face of the lacrosse ball, forcing the leather to take form. Do the same thing all the way around. Donít just do one side. Use as many clamps as you can. Once it dries, which takes about a day or two, it will keep its spherical form.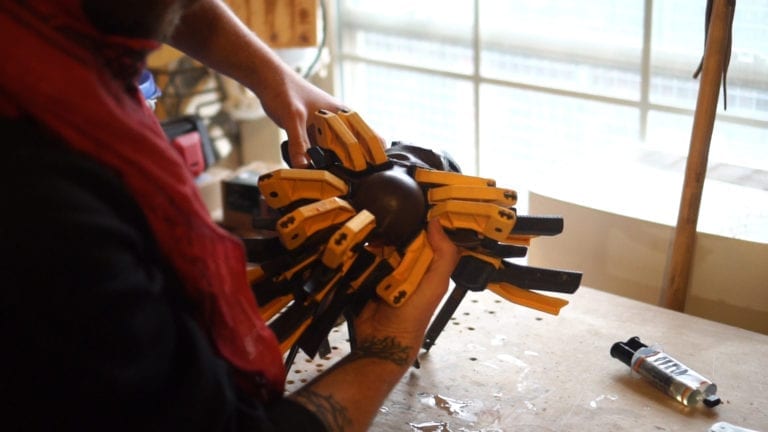 Once your pump clamps are removed, you can take your scissors and cut all of the excess leather off. Leave roughly a quarter-inch on the lip so thereís a sort of skirt that goes around the ball. Now, you can remove the ball itself from the leather. I like to push the top part of the leather into the bottom because it creates a kind of cup. To create your stitching lines, you can use an ice pick, or an actual leather punch tool, which is relatively cheap. About every quarter inch, I like to puncture a new hole. If you fold the ball into the cup form as I did, you can do both sides of the leather to make sure everything is perfectly symmetrical. Since I like a bit of weight to my lacrosse balls, I made the center out of rock and some leather. I went outside and picked up a few rocks that I thought would fit nicely. I took the excess leather that I had and wrapped that around the rocks. The twine Iím using is artificial sinew. Simply wrap it around until you find it to be secure.
For the wrapping of the core, you can use any type of string you want. Since Iím flush with boot lace in the office, thatís what I used. Use anything. Anything will do. When wrapping the string around the center core, make sure it fits inside the leather sleeve. Keep that leather handy, and every once in a while see how it fits. You want it to be slightly too large to the point where the leather will have to stretch down. I like to take one of the f-clamps from earlier and clamp the ball right into the center of it, leaving my hands free to do the stitching process.
Iím going to use the sinew from earlier and lace-up a thick needle, so we can have two different lines of thread running at the same time. What I like to do to lock it off is to loop the thread into itself, tying a knot into the end of it. However youíd like to do it should work, as long as the starting point of your threading is secure. What I like to do as I string is to go through the parallel holes back down, and cut into the next sequential row of holes and continue our lacing that exact way all the way across.
Once done with one direction, lace yourself another piece of sinew, and go back the opposite way. I like to start the way I did before, tying a knot and making everything secure. Do what you did initially, but make sure youíre working in the opposite direction, so if you started on the right and went to the left, this time, start on the left and go right. When you get to the end, tie it off in a nice, secure fashion. Take your string and lace it through the threads, so the string is on the inside of the threads, not the outside. There you have it. Youíve just made a traditional leather ball from scratch. Take it outside and have a toss. Pay attention, because thereís always room for improvement, and your process will be your own from here on out.
Iím Justin Skaggs, lead stick maker at Skaggs Wood Works, and curator of WoodLacrosseSticks.com. Thanks for checking out this leather ball tutorial. Until next time, take care. Keep LAXiní.

Article Posted: 02/05/2020 05:21:07 PM