Whatís going on, everybody? Welcome to another episode of Lacrosse History. This is part 2 of the History of Box Lacrosse. My name is Justin Skaggs, and Iím a stick maker here in Philadelphia, and I love to study the history of this game from its creation through all the many forms, and that brings us to Box Lacrosse and since the NLL is about to start, I thought it was a good time to start telling some Americans what Box Lacrosse is.
Lacrosse is an ever-changing game. Since the mid-1800s, when the Canadians tried to formulate the original rulebook, it just kept changing from there. Right now, thereís Olympic Lacrosse, Box Lacrosse, Field Lacrosse, thereís the traditional Medicine Game. There are so many different versions of what weíre talking about, that sometimes, it can get really cluttered and clustered. Also, within Box Lacrosse, thereís like, so many different rules and regulations, itís almost impossible to fully pick out what the game is, which is actually kind of beautiful. As I was writing the script to this episode, I realized that what I explained should be an entire episode, maybe even its own entire series, so within the confines of what weíre talking about today, letís just appreciate that weíre going to be talking about around 1920 to 1930 when the Montreal Canadiens actually started to formulate and legitimize what an indoor lacrosse game would look like.
Box Lacrosse, which was being referred to at the time as ďBOXLAĒ, is on a significantly smaller playing field. Being that youíre playing within the small confines of a hockey rink, it would mean the death of the defensive long pole, but not the death of defensive specialization. So, I can speak from a brief career as a bad field player and a bad box player, but the defensive responsibilities are strictly different, and the equipment is dramatically different. So, right there, your body position and where youíre going to be all changes when you change the field of play.
Obviously, there are offensive implications, but itís really important to remember that losing a six-foot d-pole is a huge change. Also, when you consider the goalie, all of the equipment is going to be different. Itís really close-quarters, and since it is being played in a hockey-style arena, thatís why you see more of a hockey-style pad structure on the goalies themselves. Another very important thing to mention during this erao f history is that the game shrunk in terms of the number of players actually on the field at any given time. Now, where you used to have 9 players on the field, now, youíre only gonna have 5 players on the floor. Obviously, each versionís going to have a goalie. Historically, there are actually some accounts of them trying to do six players on the floor, and a goalie, so that would be a 7 vs 7. That got shrunk down to a 6 vs 6 with only 5 people actually running on the floor, which is the game that is popularized today. Now, losing that many people changes the actual way you are going to play, position and pivot your men.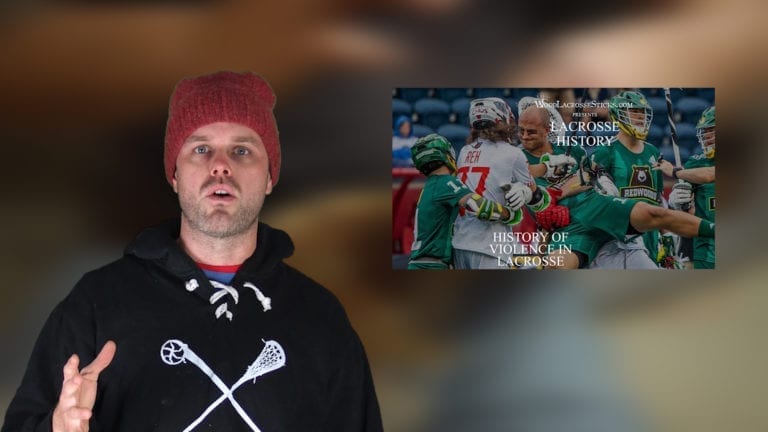 So, this is another massive change in the actual playing style as a result of taking it off the field and putting it onto the floor. What is probably the most paramount difference, and when people watch both versions of the game, the thing that they take away is that itís more aggressive and itís a lot faster. If you take grass out of the equation and turn it into a cement floor, obviously, what youíre hitting is going to be harder on the body. But, in addition to that, the ball is not going to slow down, because thereís nothing to give it friction. The ball continues to move. If you replace the ďout of boundsĒ with an actual, impenetrable, immovable wall, youíre going to create a lot of injuries to people getting checked into that wall as well, and youíre not going to be able to have enough stoppage, because the ball isnít going to be constantly rolling out of bounds. Now, obviously, if you guys know what Box Lacrosse is, a lot of this will be redundant, but the ball will go out of bounds if it actually leaves the area of play. Whether it hits the ceiling of the facility, or it goes over the wall, itís out of bounds. But, since the ball canít just roll over a line that we constructed to change possession, this game moves fast. The injures that were systemic from the additional speed as well as the harsher environment, were some things that were noted at the time. Not only was it mentioned back in the day, itís still a paramount discussion today.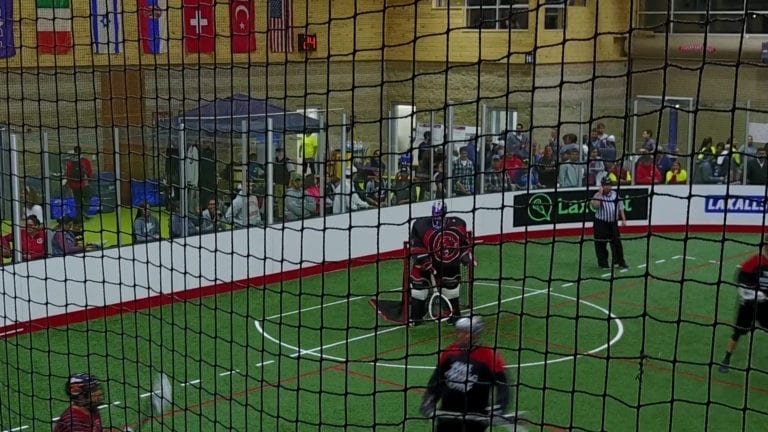 We actually have a video on the history of violence in lacrosse that I think would lend a lot more to this subject matter than me going into it here, so I invite you guys to go over and review that episode. It was a couple months back, and itíll kind of explain the governing bodies of each individual sport, and how theyíre mitigating that issue. As I said in part one, it was a huge fork in the road of lacrosse history. If you go up north of the border, box lacrosse is basically lacrosse. If you go south of the border, field lacrosse is basically lacrosse. With a slow but steady growth of box lacrosse here in the United States. Weíre going to come back for part , and weíre going to start telling you guys how the organizations themselves started to develop, then the rules and structure started to develop, and then, we can actually lead that right into our other series, about the Canadian Lacrosse Cups, so take care, and keep LAXiní.

Article Posted: 11/14/2019 04:54:23 PM