Iím Justin Skaggs from Wood Lacrosse Sticks, Iím a stick maker here in Philadelphia, and youíre currently watching part 2 of my story of how I made my first Full Bend. Where we left off with part 1, I had a nicely shaped canvas to really make this stick and I also decided I wanted to make two of them in case I messed up the first one playing around and doing something in all fairness I had no experience doing.
The most difficult part of the Full Bend process was not only planning ahead but executing the marrying of the hanging sidewall to the sidewall that attaches to the shaft. Basically, you have to make a joint in the back bend, and I decided the best way for me to do that was to do it while all items were flat and before I shaved anything down. It took a lot of geometry to figure out where this angle was going to be before I actually pulled it in, but the joint was solid and the seam was really thin, and Iím very happy with that.
To keep it together, I decided to use regular wood glue but also, I like the look of a peg joint, so I went and found some walnut and turned it into a cylinder and actually hammered that through. I made sure to fill that void with as much glue as possible so that all the grains would start to would weave together as the glue really set. So, this is actually connected in two ways One with the glue, connecting the marrying section and then, again with the peg joint.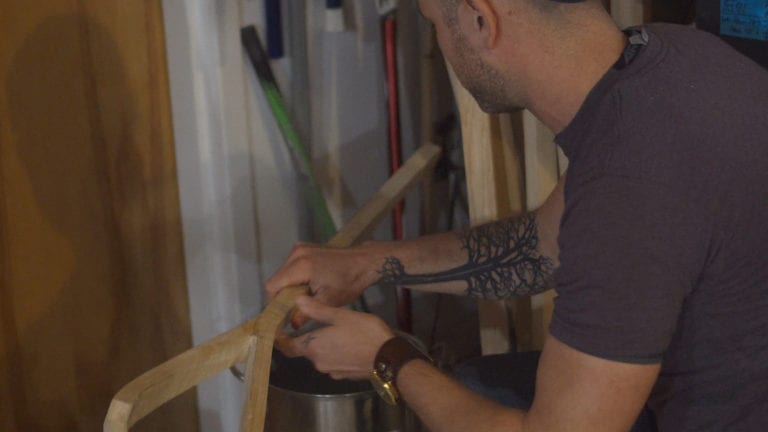 This was a really disheartening moment Ė I was really happy with the way these two sticks were turning out, and then, I looked down, and the one I have here, had a bend in the shaft that just kind of came about naturally when it was drying and I didnít notice it until I was already this late in the game, so I had to repair that. I had to actually take it, steam it, repair it, and then, you know, it was really excruciating to not be able to finish this stick because I had to wait for that to dry instead, but thatís just part of stick making, and thatís just part of bending the wood into unnatural shapes, so, itís par for the course.
Once I finally sat and was able to get back to work on it, I carved it in itís final shape and I spent a lot of time on the sander to make sure I was taking off as little as possible and getting the shape proper. This scoop was definitely a mental challenge, but Iím happy with the way it came out. Then, it was time to string it, which was a real pleasure, because Iíve never strung a Full Bend in my life. I decided to go with a very simple pocket. I didnít want to make anything distracting and take away from the frame itself, which was the real prize in this cross. I did do an homage to an old gut wall by actually putting a gut wall top string, and then basic white cross lace with standard brown leathers. I put mine with a medium pocket, which throws with very little whip, which is how I like it, but I didnít include a ball stop although maybe, in the future, I may reconsider that. I was very resistant to put anything unnecessary on the frame.
The first two Full Bends that I made took over about a year to build. I have been working on some blank frames, and theyíre just about ready to be dried and carved, but I think this is always going to be a process where itís made to order. I donít want to put this on the website. I want to make these, know who theyíre going to, and I want to have a personal relationship with the person who is going to be receiving them, so if you guys do ever want one of these, just contact me via the page for Full Bend, which is right on the Wood Lacrosse Sticks page, but do know that this is going to require some patience that most people arenít used to in modern day, and I think thatís part of the cool thing about it. Until next time, my name is Justin Skaggs. Take care. Keep LAXiní.

Article Posted: 02/06/2020 04:21:30 PM