Choctaw Stickball Sticks | 2nd Edition - Episode 3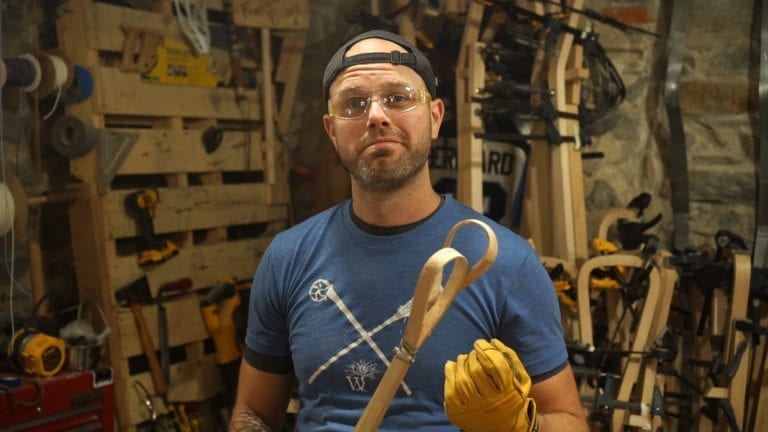 Welcome to the third part of my Choctaw stickball sticks experiment here, and Iíve gotta say that Iím pretty happy with how things turned out from Episode 2. The goal in Episode 2 was to see if the spine that I built would flare out the sticks, so I wouldnít have to spend time creating new stock that actually wouldnít work on a faulty jig. So, I used old product that wasnít exactly spec so I could try out the flare.
The flare worked out perfectly. I just need to kind of figure out the art form of going too far or too little. But, the fact that Iím able to flare out these sticks with the device that I built is really promising. So, Iím going to move forward and start making staves that are to size and changing the jigs and other parts of the process to match the new base item. One cup should be longer, and the other should be shorter, and I need the apparatuses that I use to reflect that. Thatís where Iím at now.
If I can put this all together, I think Iím gonna make a really nice pair of stickball sticks. My process is and always has been to draw things out multiple times and theorize how Iím gonna bend everything. Iím terrible at staying at one specific measurement style, so youíll probably see on these notes that it switches to the metric system, even when we string things and measure with wingspan, none of it makes complete sense, but I also donít usually have to share a working space with two new people outside of myself, so itís my process and it kind of works for me, so you guys will have to find something that works for you.
So, those are the staves, and Iím about to throw them into the steamer, and we will see if they can result in a Choctaw stickball sticks set that Iím proud enough to bring out to you guys for the second edition. Until next time, take care. Keep LAXiní.
Article Posted: 10/24/2019 03:11:49 PM