Welcome to the second update on my Choctaw stickball sticks project. My name is Justin Skaggs from Wood Lacrosse Sticks. Here, we are going to his cover the bending jig to flare out the stickball sticks. I call it ďThe Spine.Ē In my right hand, I have the first edition Choctaw stickball sticks. I always keep old stock for experimenting as I move forward, and I knew I was going to make some adjustments, so I kept a couple of these. What Iím gonna do is modify these so theyíre as close to correct as they can be so I can experiment with this jig. If this works, then Iím going to go ahead and create new staves and go through the trouble of making these accurate.
First things first, I have to modify this stick so it is actually going to give me a real representation of how the spine works. Iím going to cut this down and Iím going to make these cups a lot longer. Then, Iím going to put a hose clamp on it, which will create an effect where the base is braced, so when the stick is bent forward, itís bending as if the base is one solid piece. A lot of this information is coming from some my friends on social media, Brenner Billy and Clovis Hamilton. Remember to give them a follow. They are very talented stick makers, making them in the traditional fashion, and theyíve also taken a lot of time to give me this information in order to bridge my gap from novice to something a little bit more experienced.
When Iím done steaming them and think theyíre ready, Iím going to place the cup on the top and brace the front and back ends of it to the bottom of the spine, which Iím then going to lift up off the table. Thatís gonna allow me to adjust how much pressure is there and where the pressure is in an attempt to create a proper flare. So, in this experiment, obviously, Iíve lost a couple. I can already see some breaks that I donít like, but there are some promising results from a few of these sticks that weíve put through the test.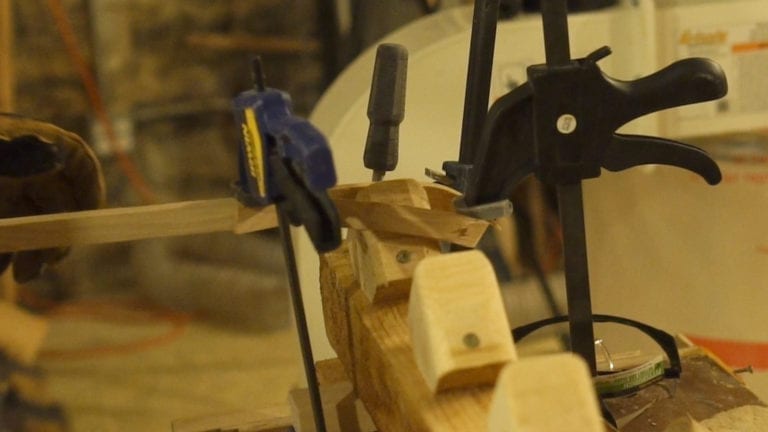 Iím gonna come back in Episode 3, analyze what I like and what I donít like, and if I feel like I can move forward, Iím gonna start developing the staves in the appropriate fashion and to the appropriate size.
Article Posted: 10/17/2019 11:47:48 AM