I took a shot a creating something so obvious, yet so different out of wood this time around. In preparation for #LaxCon 2018, I stood to make something that would be unique, noticeable, and a fun conversation starter. I also wanted to craft a few limited runs of something, that one could only get their hands on by chatting it up with me, face to face, in Baltimore. Thus, wooden lacrosse balls were born. Or, at least, my wooden lacrosse balls.
You may have been thinking, "why haven't I seen a wooden lacrosse ball before? I've seen plenty of wooden sticks. Surely they used wooden balls too!" You're right! The earliest of lacrosse balls were made of wood, but they quickly were replaced by fur-filled leather-wrapped ones. They were easier to make, easier on the sticks, and definitely easier on the body.
The first one I ever saw was at Alf Jacques' legendary wood shop. Yet, outside the Smithsonian and a few other private collections, they're nearly extinct. Once the animal-based balls took over, the unfriendly test of time mainly destroyed or misplaced their hand-carved predecessors, leaving few left from the early stickball game days.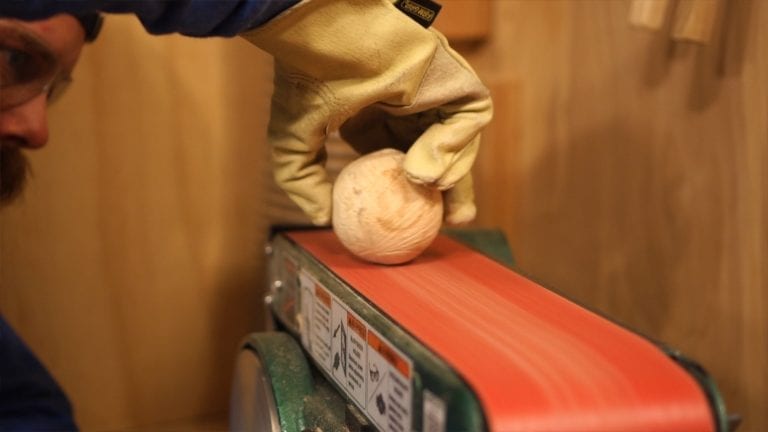 I bought myself a shotty lathe and got to work. I'm actually incredibly proud of how these came out. I was able to get them within an 1/8th on an inch from the regulation rubber balls we use today.
Wooden lacrosse balls are just dense, spheres of carved wood. Take one to the dome and you won't forget about it (unless it knocks you out cold, which it easily could). They were fun to make and neat reminders of a past we shouldn't be quick to leave behind.
Want one? Well, only six were finished in time for the event. Meet me somewhere in Baltimore this weekend, preferably on the floor at the Convention.
Not many wooden lacrosse balls exist anymore. I figured it was time to throw a couple back into the mix.
Article Posted: 01/25/2018 03:32:52 PM