Hey, Iím Justin Skaggs from Wood Lacrosse Sticks, and Iím gonna run you through the process of what it took to make my first Full Bend. The Full Bend is kind of the Holy Grail for any stick maker. This is where you wanna go, this is what you wanna do, and this is a real testament to somebodyís time invested, and itís a huge payoff when you finally nail this. Iíll tell you itís one of the proudest moments Iíve had as a stick maker, and itís something Iím going to remember for the rest of my life of when these sticks finally came together.
We actually started this journey when Kyle Harrison came in for the woodshop series last year. He ended up shoving the end of the lacrosse stick in very far during his bending process and as that stick sat around the office, I believe it was Rich who said, ďThat went far enough. You may be able to finish that.Ē
It was a cool moment because I think a lot of having not done it yet was me not being ready to take that step or take that leap but to have something that was almost accidentally built, in the likeness of a Full Bend was really motivational to get it done.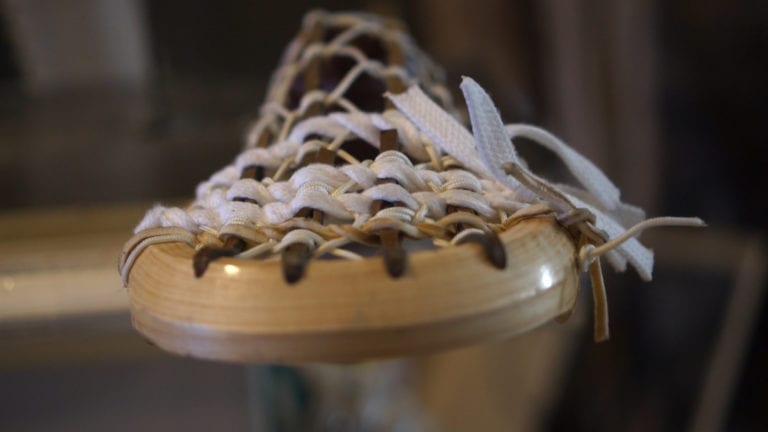 I started carving the initial Full Bend that was going to end up going to Kyle, which is now part of his family. Iím really happy with this, and I realized I needed to make a second one because if Iím going to mess up, there needs to be something to follow it up. The one that I hold in my hand and the one that I kept is actually No. 2. This decision was made out of respect because Kyle did come in and get his hands on it, and he was there when it was initially bent.
So, during the carving process, it was important that I kept in my mind that I was going to inevitably have to make these two areas meet. I decided to leave a lot of fat on the wood so I could connect them at a later time. The real difficulty in this process is not carving the stick or bending the stick. Itís actually where these two meet, and weíll get to that in the second episode, but until then, take care. Keep LAXiní.

Article Posted: 01/23/2020 04:47:49 PM