ASC Twigs
Justin Skaggs here from woodlacrossesticks.com. Weíre going to talk about a limited edition run of the twig that I made for ASC Lacrosse
ASC Lacrosse is a really amazing Lancaster-based shop thatís half-lacrosse, half-soccer, and they wanted their logo represented in their store, on my twig, so I ended up taking 12 to 13 sticks and engraved them with a logo that I modified from their actual logo. I went ahead and took the frames that looked the same, engraved 15, and took the two out that had the most variance.
The pockets were also constructed at the same time, so they would stay consistent, as were the burns. When using the laser engraver, itís best to stage the laser engraving while doing something else, so as they came out, I pounded the pocket, packed it, and put it away. There was one stick in particular that I took the extra time to line up. There was a particular knot in one of the shafts, and the ASC logo has a lacrosse stick inside of it, so I really wanted to line that up so it looked as though it was growing out of the knot, and Iím really happy with that, so if you happen to purchase that one at Angeloís Soccer Corner in Lancaster, be sure to shoot me an Instagram.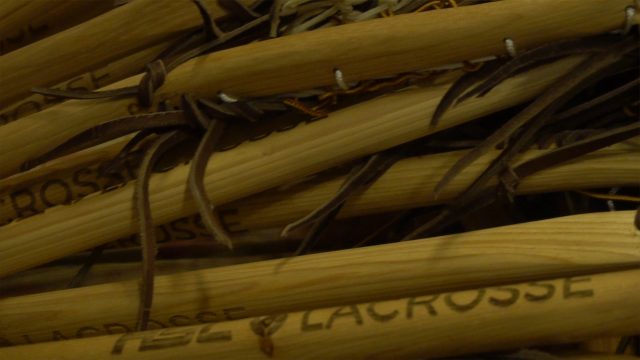 This is the first of the holiday projects, so these are all kind of like Christmas orders that go out so people can have them in store. Iím going to bring you guys some of the other projects that Iíve been doing lately, because thereís been some really cool stuff coming in and out. Stay tuned, and weíre going to do a special project for the Denver Outlaws, and specifically JoJo Wardrummer and his son. Until next time, take care. Keep Laxiní.

Article Posted: 11/06/2017 03:53:43 PM